Braces
Orthodontics
Specialises in the diagnosis, prevention and treatment of problems with tooth and jaw alignment, we treat both adults and children using highly successful orthodontic methods. We treat children for their orthodontic care with a belief that early intervention is the key to successful long-term results. Meticulous treatment planning is the key for both adults and children to ensure optimum success in orthodontic treatment is achieved.Orthodontic treatment is concerned with the treatment of improper bites and crooked teeth.The dentist usually uses braces and clear aligners to set the patient's teeth. The dentist work on reconstructing the entire face rather than focusing only on teeth.
Diagnosis and treatment planning
In diagnosis and treatment planning, the orthodontist must
Recognize the various characteristics of a malocclusion or dent facial deformity;
Define the nature of the problem, including the aetiology
Design a treatment strategy based on the specific needs and desires of the individual
Present the treatment strategy to the patient in such a way that the patient fully understands the ramifications of his/her decision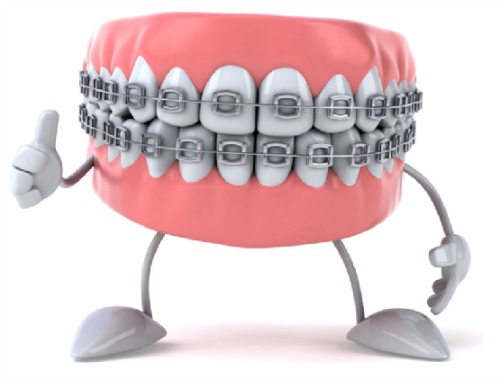 For comprehensive orthodontic treatment, metal wires ("Jushi") are inserted into orthodontic brackets (braces), which can be made from stainless steel or a more aesthetic ceramic material. The wires interact with the brackets to move teeth into the desired positions.
Additional components—including removable appliances ("plates"), headgear, expansion appliances, and many other devices—may also be used to move teeth and jaw bones. Functional appliances, for example, are used in growing patients (age 5 to 14) with the aim of modifying the jaw dimensions and relationship if these are altered. This therapy, termed Dentofacial Orthopedics, is frequently followed by fixed multibracket therapy ("full braces") to align the teeth and refine the occlusion.
After a course of active orthodontic treatment, patients will typically wear retainers (orthodontic devices), which help to maintain the teeth in their improved positions while surrounding bone reforms around them. The retainers are generally worn full-time for a period, anywhere from just a few days to a year, then part-time (typically, nightly during sleep) for as long as the orthodontist recommends. It is possible for the teeth to stay aligned without regular retainer wear. However, there are many reasons teeth will crowd as a person ages, whether or not the individual ever experienced orthodontic treatment; thus there is no guarantee that teeth will stay aligned without retention. For this reason, many the dentists prescribe night-time or part-time retainer wears for many years after orthodontic treatment (potentially for life). Adult orthodontic patients are more likely to need lifetime retention.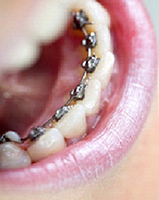 Lingual Orthodontics
One of the most appealing attributes at all ages is our smile, which can be easily improved with the help of braces. However, many adults put off having their teeth straightened because they don't want to wear braces. With the latest brace system, you can have a radiant and confident smile without anyone aware you are undergoing treatment for teeth alignment.
Mascot dental centre offers these lingual braces utilize a hi-tech wire system placed behind the teeth to correct misalignment. Lingual braces are an ideal approach if you are uncomfortable wearing braces or aligners for two or more years. Lingual braces are indicated for minor to moderate teeth crowding or spacing problems.
Benefits of lingual braces
Invisible to others
Fast Results
Comfortable to wear
Convenient for you