Cosmetic Dentistry
Teeth whitening has become the most popular dental procedure over the last decade and Zoom Laser whiting is the new professional whitening system.
It is safe, effective and fast, taking just over an hour to complete and is ideal for the busy individual or someone requiring whitening results.
After a consultation with the dentist, he will determine if you are suitable for the teeth whitening procedure, although tooth whitening is not recommended for anyone under the age of 16 or for pregnant or lactating women.
While you are relaxing in our comfortable dental chair the simple procedure begins with the dentist covering your lips and gums to protect them, only leaving the teeth exposed. Zoom whitening gel is then applied and with a specially developed light they combine to break down stains and discolouration on your teeth making them up to 12 shades brighter. The gel is applied for three fifteen minute sessions with a total treatment time of 45 minutes.
We offer a take home whitening or one-hour in-chair whitening solution, depending on your needs. The one-hour treatment is the renowned Zoom!® Whitening, as seen on Extreme makeover and offers an amazing result for those seeking an instant smile enhancement. Our take home whitening allows you to do just that. Following our instructions, you can take the whitening treatment home and apply it at your own convenience at times more suited to your busy schedule.

Your smile is one of the first things people notice about you, which is why many of our patients choose to enhance their smile with us cosmetic dentist atMascot Dental Centre. You can choose from a host of procedures, each designed to improve the appearance of your smile, from crowns and bridges to tooth-coloured fillings by seeking cosmetic dental treatment in Mascot Dental Centre.
Whether you choose to take advantage of teeth whitening for a brilliant white new smile, to straighten or improve the appearance of your front teeth with porcelain or composite veneers, or to achieve a healthy, straight smile with the revolutionary Invisalign system, Mascot Dental Centre cosmetic dentistry could be ideal for your needs.
Porcelain Inlays & Onlays
Inlays are used to fill a hole in a tooth that has been caused by decay or the tooth has broken. We offer ceramic or reinforced resin as an alternative to amalgam, providing a natural, tooth coloured solution that not only looks great but assists with strengthening the affected tooth.
Inlays and onlays are long-lasting, natural looking alternatives to fillings. Made from zirconia and ceramic porcelain (or alternatively gold) for strength, they are custom made to fit and fill most types of cavities. The tooth coloured options will match the natural colour of your own teeth.
Unlike conventional fillings, which require large amounts of healthy tooth to be removed, inlays and onlays on need the damaged portion of the tooth to be removed. Porcelain inlays and onlays are an aesthetic alternative and they look exactly like the rest of your natural tooth.
Inlays and onlays protect and restore large portions of the decayed tooth, much like a large filling. An inlay covers more of the inside decayed part of the tooth and an onlay covers some of the inside but also more of the outer structure of the tooth. Because they are made with porcelain, they are customized to your natural tooth shade and look like your natural tooth. Porcelain inlays and onlays are made from the same strong, tooth coloured material that is used for crowns and bridgework. A customized shade makes them virtually undetectable.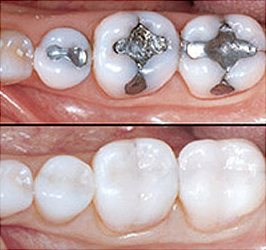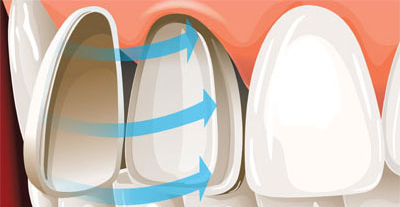 Porcelain and Resins Veneers
Porcelain veneers closely resemble tooth enamel, and when bonded over your existing front teeth, are incredibly strong and durable.
Before placing you porcelain veneers, the dentist prepares each tooth by removing tiny amounts of enamel from the tooth surface. Once each tooth has been prepared, an impression of the teeth is taken, from which we create your custom made veneers. The veneers will be ready in approx two weeks, during that time you will have temporary veneers in place.
A thin shell-like piece of porcelain, a veneer is placed over your existing front teeth and when bonded to the front surface, becomes incredibly strong and durable. Veneers can be incorporated to close gaps, straighten crooked teeth, repair chips and cover permanent stains. A fast and extremely aesthetic solution, veneers can provide you with a great looking and long-lasting smile.
Advantage of porcelain veneer are…..applied without pain, simpler than crown, cheaper than doing crown, resistant to staining,never to be decayed, last so long when it is under a good care.
The disadvantage of porcelain veneer are …cannot repaired easily, and small tooth structure has to be removed.
Resin Veneers are made of a wafer thin tooth coloured material or putty like resin is moulded onto the tooth and shaped, the light then used to harden the resin. Then the final resin will be finished, trimmed and polished.
We always offer either porcelain or composite resin for this treatment to provide you with a result that looks and feels just like your natural tooth.Both could be placed on the front of your teeth for a perfect smile. They offer an excellent cosmetic solution for teeth that are crooked, misaligned or stained.
Advantage of resin veneer are….. Easy to apply for small areas, tooth preparation are not normally required, it is a one visit technique, not required impression, can be easily repaired, and less expensive option than porcelain veneer.
The disadvantage of resinveneer are…not strong enough,easy to brake and need more regular maintained work.
If you have ever worried about your smile? Or you felt self conscious or lacking in confidence because you are not happy with the way you look? Contact us now for an appointment to discuss your concerns and the treatment options.